Zondra Rizzo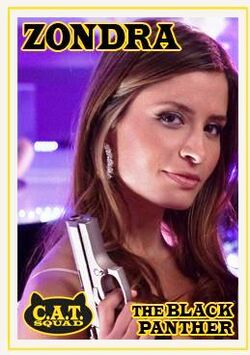 Zondra Rizzo is one of the four members of the CAT Squad, along with Carina, Amy, and Sarah. Zondra is portrayed by Mercedes Masohn.
Described as "the bitch" in the introductory voiceover, Zondra was accused of being a traitor and feeding information to Augusto Gaez because Sarah had discovered a hidden transmitter in the heel of Zondra's boot, but she denied all accusations and passed a lie detector with the CIA. It is later revealed that she was framed by Amy, the actual traitor. Sarah and Zondra apologize and mend their friendship, and Sarah makes Zondra one of her bridesmaids.
She first appeared in "Chuck Versus the Cat Squad".
Saving Sarah and her Wedding
Edit
In "Chuck Versus the Cliffhanger", Zondra along with Carina came to help Chuck and his team rescue Sarah and save her from the Norseman poisoning. They were all the magnent to distract Clyde Decker to allow the Russian spies to land without being detected. It is not mentioned if this resulted in her being fired along with Chuck, Sarah and Casey.
She later attends Chuck and Sarah's Wedding as a bridesmaid along with Ellie and Carina.
Presumably, the surname may be an homage to the character from "Grease", played by Stockard Channing in the 1978 movie.
Ad blocker interference detected!
Wikia is a free-to-use site that makes money from advertising. We have a modified experience for viewers using ad blockers

Wikia is not accessible if you've made further modifications. Remove the custom ad blocker rule(s) and the page will load as expected.