This article is written from a real-world point of view.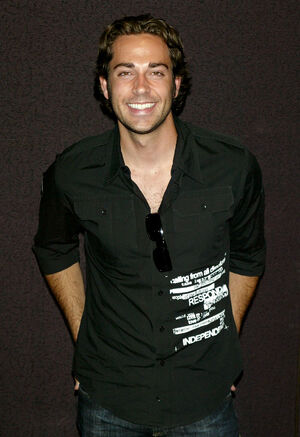 Zachary Levi, birth name Zachary Levi Pugh, is born on the 29th of September, 1980 and plays as the iconic Chuck Bartowski.
Biography
Edit
Early life
Edit
Born in Lake Charles, Louisiana, Levi grew up all over the country before finally making his permanent home in Ventura, California. He began acting in theater at the early age of six, performing lead roles in such regional productions as Grease, The Outsiders, Oliver, The Wizard of Oz and Big River.
He has two sisters, one older and one younger. Their names are Shekinah and Sarah.
Acting Career
Edit
Levi had a supporting role in the FX television movie Big Shot: Confessions of a Campus Bookie. He played Kipp Steadman on the ABC sitcom Less Than Perfect. He also portrayed a potential boyfriend of Charisma Carpenter's character Jane, in the ABC Family television movie See Jane Date. He also appeared as a player in the 2011 NBA All-Star Celebrity Game as a player. Levi also voiced characters in Halo: Reach and Fallout: New Vegas.
Filmography
Edit
Director Filmography
Edit
Zachary has taken the role as a director thrice, and has directed three episodes of Chuck so far.
External links
Edit
Ad blocker interference detected!
Wikia is a free-to-use site that makes money from advertising. We have a modified experience for viewers using ad blockers

Wikia is not accessible if you've made further modifications. Remove the custom ad blocker rule(s) and the page will load as expected.