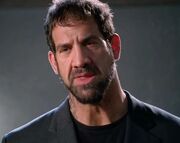 "Don't ever ask me why he's called "The Gobbler". It's because
he... well...eats people.'"
―Alexei Volkoff
Yuri "The Gobbler" Gobrienko (Matthew J. Willig) was Volkoff's most trusted bodyguard. While protecting La Ciudad (Chuck Versus the Tango), he was captured and imprisoned in the Seabrook Supermax Prison in the US. Volkoff, wanting to test Sarah's loyalty to himself, sent her on what he termed a "suicide mission" to break Yuri out of jail and to bring him back to Volkoff headquarters.
Sarah goes back to Castle and asks her old team to help break Yuri out of jail. They do this by sending Chuck in as a prisoner and Casey and Morgan in as guards. Chuck picks a fight with Yuri, pretending that he's trying to gain respect by beating the tough guy up, and eventually knocks him out. Whilst this is going on Casey and Morgan have distracted the guards with a birthday cake. While Morgan keeps the distraction going, Casey lets Sarah in through a back door and together they haul Yuri into a van and part ways.
Sarah gets Yuri back to Volkoff Industries Headquarters, where Volkoff seems happy to see Yuri but he soon turns angry and shoots Yuri in the head. It is then revealed that he was angry with Yuri for getting captured as Yuri was entrusted with the key to Volkoff's arms pipeline and intelligence network database, Codename: Hydra. The "access key" itself was a fake eyeball, replacing Yuri's left eye. Now that Volkoff has the system back under control he uploads the database to a much safer location and destroys the fake eyeball. Unbeknownst to Volkoff, Mary steals one half of the eye which she passes on to Sarah to give to Casey. During their staged fight to appease Volkoff, Sarah slips it in Casey's pocket, telling him to give it to Chuck.
He appears in "Chuck Versus the Gobbler" and "Chuck Versus the Tango".