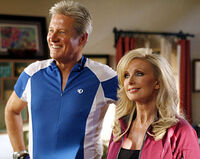 Drs. Woody and Honey Woodcomb are Devon's (and his two brothers) parents. They both are very similar to Devon when it comes to their love for exercise and athletics. Woody is portrayed by Bruce Boxleitner and Honey by Morgan Fairchild.
They are first mentioned in "Chuck Versus the Gravitron", and first seen in "Chuck Versus the Sensei". One time, Ellie surprised them when they were making love in jacuzzi. Honey and Woody live in Connecticut, and are nicknamed in the same way as Devon, as they are referred to by Chuck and Ellie as "The Awesomes". They have three perfect sons, Devon being their oldest.
They are energetic, lively, and fit even when they have been on a red eye flight, and are always ready and eager to exercise. Whenever they are coming to town, Ellie becomes obsessed with pleasing them feeling she would not measure up to their awesomeness. They attended both of Devon and Ellie's wedding ceremonies. Honey has also mentioned that Woody is a chief of surgery.
In the Season Four episode "Chuck Versus the Aisle of Terror", Honey lives with a pregnant Ellie for a few days to prep the couple for parenthood, much to the latter's chagrin. Even though at first the relationship with her daughter-in-law is strained, Ellie then becomes grateful for Honey, and realizes they are just trying to help and be involved in both her and the baby's life, a contrast to Ellie's own mother. They do not reappear onscreen, although they are frequently referenced.
Woody is played by Bruce Boxleitner who starred in the 1982 Walt Disney Pictures film Tron as the titular character Tron, a role which he reprised in the 2010 sequel, Tron: Legacy. (Particularly notable due to Chuck's Tron Poster)
Co-creator Josh Schwartz is the son of Honey Schwartz, which may have been the choice to naming Devon's mother, although there might also be a 'honeycomb' element.
Ad blocker interference detected!
Wikia is a free-to-use site that makes money from advertising. We have a modified experience for viewers using ad blockers

Wikia is not accessible if you've made further modifications. Remove the custom ad blocker rule(s) and the page will load as expected.