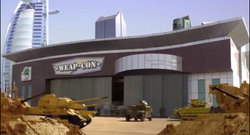 Weap-Con (likely short for weapon convention), held in Dubai, is considered by many to be the greatest weapons convention in the world. It is known that John Casey enthusiastically attends the event every year and is pleased that he is able to write off 2009's convention as work.
While at Weap-Con Chuck and the team are shown items available for purchase like a mobile armoured interigation unit. While there, Casey, even though Sarah told him not to purchase anything, bought a Japanese laser pen which is later used to escape. Later on during a stand off, Chuck draws a pen identical to Casey's, but when he presses the button it is revealed to contain a knife which he throws using the Intersect. Although it is not known when Chuck aquires this pen.
Relevance to plot
Edit
In "Chuck Versus the Nacho Sampler" after using his invention the Intersect Glasses to defeat the group of ring agents sent to reclaim the glasses which he was originally build for The Ring, Manoosh Depak books tickets to Dubai at attempt to sell his Intersect glasses at Weap-Con.