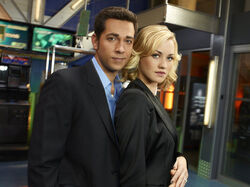 The fifth and final season of Chuck is right around the corner and they are pulling out all the stops. Check out these sexy new pictures of Chuck and the gang! Morgan is looking especially debonaire...
Now that Chuck and Sarah have their own private spy shop, what do you think will happen? More missions? More secrets?
Gallery
Source
Ad blocker interference detected!
Wikia is a free-to-use site that makes money from advertising. We have a modified experience for viewers using ad blockers

Wikia is not accessible if you've made further modifications. Remove the custom ad blocker rule(s) and the page will load as expected.