Tommy Delgado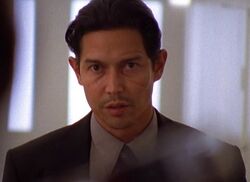 Tommy (Anthony Ruivivar) is the Fulcrum operative who initially attempts to use Bryce Larkin to steal the Intersect, and was part of the failed operation to have him smuggled back into the country by the Demetrios ring. He served as the primary antagonist of Season 1.
When Bryce was shot by John Casey of the NSA, Tommy headed the operation to bring him back to life, in order to learn the location of the Intersect files. When Bryce claimed that they were in his head, Tommy decided to keep him alive.
Bryce was eventually found by the government, but he escaped, holding his former friend Chuck hostage. He encountered Tommy again when the elevator he and Chuck were riding. Tommy tried to coerce Bryce to join Fulcrum but Bryce refused to.
He later deduced that Bryce Larkin was a decoy and that Chuck was the real Intersect. He threatened to kill everyone in the Buy More if Chuck didn't come along. However, Chuck told his co-worker Jeff a panic word, "pineapple", which triggered a mass store evacuation, creating enough confusion for Chuck and Casey to escape to the Home Theater Room. Tommy and his cohorts then assaulted them, only for the latter to be taken out by Bryce and Sarah, who had escaped a Fulcrum ambush. Unfortunately, Tommy held Chuck hostage. Bryce managed to confirm in Klingon that Chuck was wearing a bulletproof vest, and shot him to give an opening for Casey to knock Tommy. He was later arrested and has not been seen in the show since, however he is still involved with tracking the Intersect from his cell.
It was a "flash" on Tommy that first revealed Fulcrum's existence to Chuck. Until Jill was revealed to be a Fulcrum agent Tommy was the only Fulcrum agent to have appeared in more than one episode, and a picture of Tommy is seen on the diagram detailing the connections between the Intersect and several Fulcrum members.
Tommy's birth date and birthplace are the same as the actor who plays him.
He was played by Anthony Ruivivar
Tommy is one of the most important characters in series' mythology, as his actions set the plot in motion.
References
Edit
Ad blocker interference detected!
Wikia is a free-to-use site that makes money from advertising. We have a modified experience for viewers using ad blockers

Wikia is not accessible if you've made further modifications. Remove the custom ad blocker rule(s) and the page will load as expected.