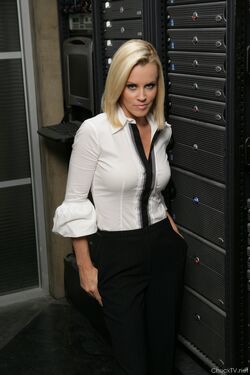 Sylvia Arculin (Jenny McCarthy) was one of the team of Fulcrum agents involved in developing the Fulcrum Intersect after Fulcrum attempt to steal the CIA's/ NSA's First Intersect was hindered by Bryce Larkin sending it to Chuck.
Relevance to the plot
Edit
After Team Bartowski are alerted to possible terrorist activity going on at the Meadow Branch cul-de-sac, Sarah and Chuck pose as a couple and attempt to find out what's going on. She posed as a flirtatious and unfaithful housewife inviting Chuck to have an affair with her whilst her "husband" is away. Chuck goes over to spy on her home after Casey spots that the house is using cabling that typically used to hack government severs. Sylvia attempted to seduce Chuck, handcuffing him to the bed, but is later revealed to be attempting to run a test intersect on him. Whilst investigating the home, whilst Sylvia is downstairs, Chuck inadvertently absorbing the test database.
Sylvia and the rest of the Fulcrum team capture Team Bartowski and subject Chuck to the full Fulcrum Intersect as not many people are even able to download the test data. After Chuck's downloaded Fulcrum's Intersect, Casey switches it back on, whilst Team Bartowski cover their eyes. The Fulcrum Intersect has devastating effects for the Fulcrum team, even killing a couple of them. Sylvia's fate at the end of the episode was not revealed for certain.She, along with Cliff, Brad, and Vanessa, appear on the chart hidden behind Chuck's Tron poster