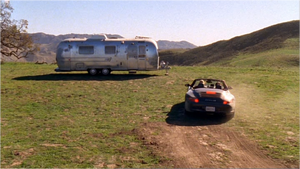 Stephen Bartowski's Caravan is the home of Stephen Bartowski just prior to "Chuck Versus the Broken Heart", when Chuck discovers the location, thanks to Sarah. At some unspecified point around the time of the third season, Stephen has moved into a cabin at Twin Pines.
Relevance to Plot
Edit
When Chuck makes a promise to Ellie that he will find their father for her wedding day, he is unable to locate the man without using a government database. Sarah realises this, and secretly performs an illegal government database search for his father. They locate his home - a caravan 100 miles east of Barstow, CA, and the pair's visit results in Stephen's eventual return to Burbank. It is not stated exactly how long Stephen has been there, or where he was before. He seems somewhat bemused by his visitors, and unsure how to respond to his estranged son.
Notable Residents
Edit
Notable Visitors
Edit
The caravan used in the show is an Airstream, a brand of luxury travel trailers.
From the interior shots of the caravan, it is clear it features a small lounge, kitchenette, and a bedroom at the far end.
Ad blocker interference detected!
Wikia is a free-to-use site that makes money from advertising. We have a modified experience for viewers using ad blockers

Wikia is not accessible if you've made further modifications. Remove the custom ad blocker rule(s) and the page will load as expected.