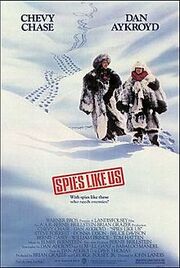 Spies Like Us is a 1985 American comedy film directed by John Landis and starring Chevy Chase, Dan Aykroyd, Steve Forrest, and Donna Dixon. The film presents the comic adventures of two novice intelligence agents sent to the Soviet Union.
Chuck drew heavily on the film, including imitating its often rapid change of tone from comedy to peril.
Ad blocker interference detected!
Wikia is a free-to-use site that makes money from advertising. We have a modified experience for viewers using ad blockers

Wikia is not accessible if you've made further modifications. Remove the custom ad blocker rule(s) and the page will load as expected.