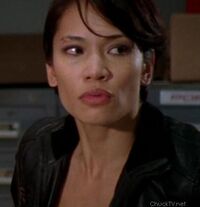 Smooth Lau is a mid-level operative of the Chinese Triad. She has been convicted in the past of dealing guns and drugs. She teamed with Jason Wang, using his exotic car business as a cover. She helps to plot the assassination of a Chinese diplomat by using a bomb planted in the official's newly-purchased luxury car. She choked out Sarah with a seat belt during a brutal fight (cat fight!) in a car, but was defeated. Her plans were foiled by the rest of Team Bartowski.
The role of Smooth Lau was played by Jennifer Jalene.
She is only seen in: "Chuck Versus the Best Friend".

Ad blocker interference detected!
Wikia is a free-to-use site that makes money from advertising. We have a modified experience for viewers using ad blockers

Wikia is not accessible if you've made further modifications. Remove the custom ad blocker rule(s) and the page will load as expected.