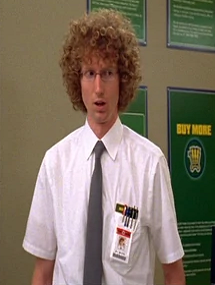 Skip Johnson (Michael Kawczynski) is a member of the Nerd Herd, and was awarded a 65" flat screen TV for being the Buy More's "Employee of the Month" for the month of November 2008. He is distinguished by a large, blond Afro and is generally a nonspeaking character.

First seen in: Chuck Versus the Intersect, first named appearance in: Chuck Versus the Sensei
Ad blocker interference detected!
Wikia is a free-to-use site that makes money from advertising. We have a modified experience for viewers using ad blockers

Wikia is not accessible if you've made further modifications. Remove the custom ad blocker rule(s) and the page will load as expected.