Third Season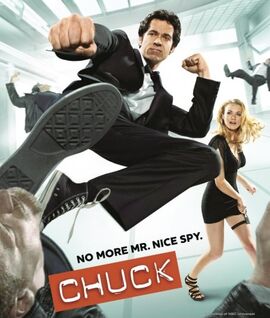 | | |
| --- | --- |
| Theme: | Action-comedy |
| Country of origin: | USA |
| Network: | NBC |
| Original run: | January 10, 2010 - May 24, 2010 |
| Total episodes: | 19 |
| Seasons: | Season 1 • 2 • 3 • 4 • 5 |
The Third Season of Chuck began airing on January 10, 2010 in the United States, with the episodes "Chuck Versus the Pink Slip" and "Chuck Versus the Three Words". The season's events took place six months after the end of the second season.
There might not have been a third season, as NBC was thinking about canceling Chuck due to its low ratings, if it hadn't been for the fan-generated Save Chuck campaign. This was the beginning of Subway's sponsorship deal with the show.
The season finale aired two episodes as well by airing "Chuck Versus the Subway" and "Chuck Versus the Ring: Part 2".
Season Plot
Edit
After downloading the Intersect 2.0, Chuck finally chooses to be a spy, to Sarah's chagrin. Six months later, after failing spy school, he is fired from the CIA and has also lost the love of his life. CIA Agent Daniel Shaw takes over Team Bartowski to aid Chuck's journey to becoming a spy.
However, things take a turn when Sarah's first kill is revealed as Evelyn Shaw - wife of Daniel Shaw, and the Ring takes hold of the CIA and NSA.
Recurring
Edit
Episode List
Edit
DVD Special Features
Edit
Chuck-Fu...and Dim Sum: Becoming a Spy Guy
The Jeffster Revolution: The Definitive Mockumentary
Declassified Scenes
Gag Reel