This article is written from a real-world point of view.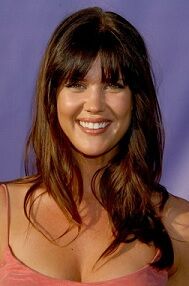 Sarah Lancaster (b. 1980) plays Ellie Bartowski.
Lancaster has played a number of primetime roles, including Rachel on Saved by the Bell, Madison Kellner on Everwood, Lisa the Gift-Shop Girl on Scrubs, and Marjorie on What About Brian.
Biography
Edit
Lancaster grew up in Overland Park, alongside her younger brother Daniel; Barbara, her mother, was a homemaker while her father, Michael, was a real estate agent. Eventually, his job aided in moving the Lancaster family to Mission Viejo, California.
It was in California that Lancaster began taking acting classes. Her abilities landed her a talent agent, who helped the young eighth grader Lancaster in securing her first series regular role on Saved by the Bell: The New Class in 1993. During this time, she was tutored on the set and took college courses at the University of California, Irvine to expedite her graduation from high school. After graduation from New Hart Jr. High, she moved to Los Angeles to further her acting career.
External links
Edit
Ad blocker interference detected!
Wikia is a free-to-use site that makes money from advertising. We have a modified experience for viewers using ad blockers

Wikia is not accessible if you've made further modifications. Remove the custom ad blocker rule(s) and the page will load as expected.