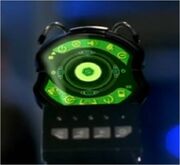 The Ring Communicator (also known as the Ring phone) is a small hand-held cellphone-style device which features prominently throughout season 3. The communicator is used by members of The Ring to communicate and uses a special, closed network to avoid detection and interception by CIA or NSA agents.
The communicator is first introduced in "Chuck Versus the Pink Slip" when Chuck manages to recover a communicator from the ring assassin Javier Cruz. General Beckman is impressed, stating that the NSA have been attempting to capture one for some time.
The communicator is circular in shape, and features a touch screen, and is used primarily by agents of The Ring to communicate to each other when in the field. As stated above the communicators operate on an encrypted, closed closed network to avoid detection by CIA or NSA agents. The CIA and NSA having previously been unable to hack it since they didn't poses a communicator.
However in "Chuck Versus Operation Awesome", Chuck manages to take apart and hack a Ring Communicator, using Buy more equipment, and forcibly dial the Ring agent known as Sydney Prince calling her to the Buy More. Another Ring Communicator is captured in "Chuck Versus the Beard", when Castle is discovered and entered by Ring agents. At the end of the episode, Casey is contacted by the Ring agent James Keller through a call.
Ad blocker interference detected!
Wikia is a free-to-use site that makes money from advertising. We have a modified experience for viewers using ad blockers

Wikia is not accessible if you've made further modifications. Remove the custom ad blocker rule(s) and the page will load as expected.