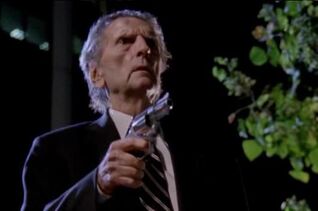 The Repo-man was a minor character who appeared in "Chuck Versus the Anniversary". He arrived in Los Angeles to repossess Chuck and Morgan's car after they failed to make a payment for the car for four months. He is portrayed by Harry Dean Stanton.
Despite the car being only 900 dollars, Chuck and Morgan had been unable to make a payment as they had gotten 43,000 dollars into debt from searching for Chuck's mom. Later in the episode, when Chuck and Morgan sneak onto the car lot to retrieve the Volkoff Industries weapons menu (disguised as a Chinese food restaurant menu) left in the car, they are caught by the repo-man who fires at them with a shotgun. After a brief standoff in which the repo-man demands the menu, Chuck and Morgan run away and escape unharmed.
The repo-man appears to be very dedicated to his job, and it seems that he does not like young people due to his interactions with Chuck and Morgan, referring to them as, "over sexed and under worked kids." He does reveal that he likes chinese food, namely, dumplings.
Harry Dean Stanton, the man who portrays the repo-man, had previously starred as a repossession agent in the 1984 film, Repo Man.
Ad blocker interference detected!
Wikia is a free-to-use site that makes money from advertising. We have a modified experience for viewers using ad blockers

Wikia is not accessible if you've made further modifications. Remove the custom ad blocker rule(s) and the page will load as expected.