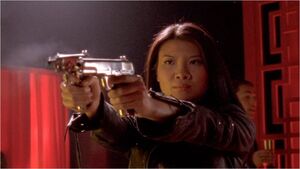 The Norinco QSZ-92 Pistol is a Chinese semi-automatic pistol, in limited service with the People's Liberation Army since the 1990s. It is featured in the episode "Chuck Versus the Sizzling Shrimp", used by Chinese Intelligence agent Mei-Ling Cho in her attempt to rescue her brother, Lee Cho, a Chinese diplomat kidnapped by the Triads.
Chuck flashes on the insignia displayed on the pistol, convincing the team on this basis that Mei-Ling is attempting to assassinate Ben Lo Pan.
Specifications
Edit
Type: Double Action
Calibers: 5.8 mm
Weight Unloaded: 760g
Length: 190mm
Barrel Length: 127mm
Capacity: 15 rounds
When paused, Chuck's flash reveals the detailed specifications displayed above.
Ad blocker interference detected!
Wikia is a free-to-use site that makes money from advertising. We have a modified experience for viewers using ad blockers

Wikia is not accessible if you've made further modifications. Remove the custom ad blocker rule(s) and the page will load as expected.