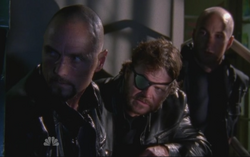 "These are my top assassins in North America.
Use them."
―Alexei Volkoff
Pierre, Victor and Hercule were purportedly Volkoff's best assassins in North America. Volkoff had assigned his best agent; Frost, to "tidy things up" with regard to CIA agent Charles Carmichael using these assassins.
They then ambush Chuck and Sarah, using methods and under instructions from Frost, who kills the assassins moments before they managed to 'ice' her son Chuck, as well as Sarah.
They appeared  (briefly) in: "Chuck Versus the Leftovers".