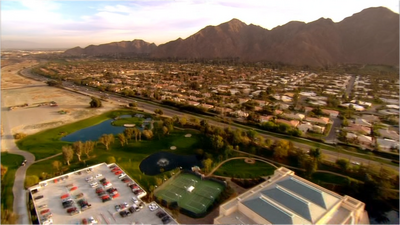 Palm Springs is a real-life desert city located in Riverside County, California. It also features prominently in the Chuck Season Two episode "Chuck Versus the Seduction".
Relevance to Plot
Edit
Main Article:"Chuck Versus the Seduction"
When General Beckman assigns Team Bartowski a new mission in "Chuck Versus the Seduction" to investigate Sasha Banacheck, Chuck, Sarah, and Casey are informed that Banacheck previously spent 7 years in a Bulgarian prison without revealing any critical information. Only one agent was able to get close to her - Roan Montgomery. Sarah shows Chuck his file, and Chuck realizes he lives in Palm Springs, and the the team visit his address - 1274 S., Palm Canyon Drive, Palm Springs, California, 92264.
Notable Residents
Edit
Ad blocker interference detected!
Wikia is a free-to-use site that makes money from advertising. We have a modified experience for viewers using ad blockers

Wikia is not accessible if you've made further modifications. Remove the custom ad blocker rule(s) and the page will load as expected.