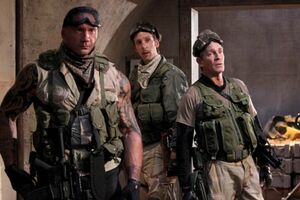 Kyle Packard, Tim Isaacs and Sean MacKintosh (Eric Roberts, Dave Bautista, and Joel David Moore) were members of Casey's Clinton-era special forces team, with their expertise being in special weapons, hand-to-hand combat, and electronics respectively, while John Casey himself was the team's tactician.
The characters are presented as an homage to and spoof of The A-Team, a comparison Chuck makes when Casey tells him and Sarah of it. During a mission in Iran during 1999, they attempted to steal terrorist gold that they were ordered to destroy, but Packard, T.I, and MacKintosh wanted it. Casey thwarted his teammates and personally dragged them back to friendly territory for court-martial. They managed to escape, and attempted to kill Casey several times before they finally gave up. At some point they went to work for Volkoff.
When Chuck learned they may have had a connection to Frost - his mother, he orchestrated a complex plan to lure them into the open by faking Casey's death and funeral. Chuck asks them where Frost is being held as prisoner at, but the trio tells him that Frost is actually their boss and Volkoff's right hand.
They were ultimately defeated and recaptured by Morgan when he electrocuted them, and himself, to prevent them from recovering the gold.
Although the names evoke IT giants like Hewlett-Packard and the Apple Macintosh, if the parallel is carried through then Casey becomes Templeton Peck, a.k.a. Face.
Appeared only in: "Chuck Versus the Couch Lock".
Ad blocker interference detected!
Wikia is a free-to-use site that makes money from advertising. We have a modified experience for viewers using ad blockers

Wikia is not accessible if you've made further modifications. Remove the custom ad blocker rule(s) and the page will load as expected.