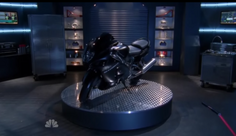 The Nighthawk is a special weaponized government motorcycle, introduced for the first time in "Chuck Versus the Cliffhanger" when Chuck rides off on it.
It is a prototype, which was stored in Castle, that has never been tested before this particular episode.It is revealed to contain two machine guns and a rocket launcher. The weapon features of the Nighthawk are seen to be also remote controlled ( Casey lights them up to open the door of a CIA prisoner tranfering truck, moving Alexei Volkoff ( Hartley Winterbottom)).
It is shown to be labeled as CIA-X-#4IDR
The Nighthawk is likely a reference to the "Street Hawk", the top-secret supercycle from the 1980s television show Street Hawk, possibly with elements of Knight Rider included.
Ad blocker interference detected!
Wikia is a free-to-use site that makes money from advertising. We have a modified experience for viewers using ad blockers

Wikia is not accessible if you've made further modifications. Remove the custom ad blocker rule(s) and the page will load as expected.