Mr. Mercer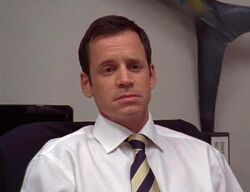 Seasons:
Season 1, 2, 3
Portrayed by:
David Burke
Status:
Unknown
Occupation:
Buy More executive
Aliases:
Unknown
Relatives:
Unknown
Relationships:
{{{relationships}}}
Residence:
Unknown
Appearances:
106, 220, 319

Mr. Mercer is a Human Resources Manager for the Buy More chain and has appeared in one episode in each of the first three seasons. This may mean that the CIA and Carmichael Industries did not pick up his contract.
He was first seen in "Chuck Versus the Sandworm" where he arrives at the Burbank Buy More to interviews the candidates, Chuck Bartowski and Harry Tang, for the position of Assistant Manager at the Burbank Buy More.
He appeared in "Chuck Versus the Sandworm", "Chuck Versus the First Kill" and "Chuck Versus the Ring: Part 2".
Ad blocker interference detected!
Wikia is a free-to-use site that makes money from advertising. We have a modified experience for viewers using ad blockers

Wikia is not accessible if you've made further modifications. Remove the custom ad blocker rule(s) and the page will load as expected.