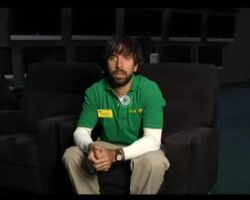 Morgan's Vlog is a small spin-off series from the Chuck universe which is composed of a number of video blogs featuring Morgan Grimes and Chuck Bartowski. In the blogs they talk about films and play "Make a Movie End a Lot Quicker", a challenge to shrink a film's plot to make it end quicker.
Throughout this series Morgan is referred to by 'Morgan Santos', this is because this series was made shortly before his name was changed for the main series.
Episode list
Edit
See Also
Edit
External Link
Edit
Ad blocker interference detected!
Wikia is a free-to-use site that makes money from advertising. We have a modified experience for viewers using ad blockers

Wikia is not accessible if you've made further modifications. Remove the custom ad blocker rule(s) and the page will load as expected.