Mei-Ling Cho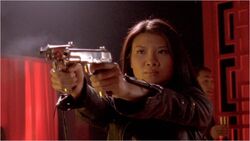 Mei-Ling Cho was a Chinese Intelligence agent. She is portrayed by Gwendoline Yeo.
She is in the United States to rescue her brother Lee Cho, a low level diplomat working at the Chinese consulate who has been kidnapped by Chinatown Triad leader, Ben Lo Pan. She is on a rogue assignment, without her government's approval as they refused to save her brother.
She is first seen in the kitchens of Bamboo Dragon when Chuck, Sarah and Morgan are picking up their Sizzling Shrimp. Chuck flashes on her and tells Sarah that she is one of China's top spies and is involved with the Triad. Beckman is informed and Team Bartowski stake out the restaurant in their van. They spot Mei-Ling entering the club armed with a Chinese government issue weapon, causing Chuck to believe that Mei-Ling is there to kill Ben Lo Pan.
The team unintentionally foil her attempt when Sarah and Casey enter the club and get involved in a gun fight, while Chuck inadvertently helps Ben Lo Pan escape, who attempted to escape on his own with his wheelchair.
Ad blocker interference detected!
Wikia is a free-to-use site that makes money from advertising. We have a modified experience for viewers using ad blockers

Wikia is not accessible if you've made further modifications. Remove the custom ad blocker rule(s) and the page will load as expected.