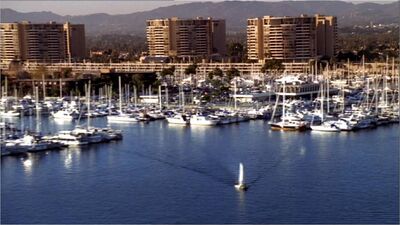 The Marina Del Rey is Burbank's local marina, and is featured as a prominent location during "Chuck Versus the Crown Vic".
Relevance to Plot
Edit
The Marina is first shown during a Nerd Herd install by Chuck, Lester and Jeff on the Floating Hope yacht, where counterfeit money operations are discovered by Chuck. The New Constellation Yacht Club is a mission location at berth in the marina. The marina is then visited again, with Sarah attempting to get close to the leader of the operation; Lon Kirk. Chuck and Casey storm the Hope hoping to find evidence, only to blow their covers and find medicine instead. Later, it is the location where Morgan meets Anna's parents on their yacht, and where Lon Kirk attempts to blow it up with an RPG.
Marina Del Rey loosely translates from Spanish as "Marina of The Kings"
Ad blocker interference detected!
Wikia is a free-to-use site that makes money from advertising. We have a modified experience for viewers using ad blockers

Wikia is not accessible if you've made further modifications. Remove the custom ad blocker rule(s) and the page will load as expected.