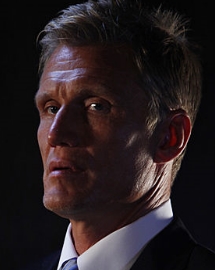 "Remember - I work for Volkoff. I must break you.'"
―Marco to a captured Sarah and Casey
Marco is an agent/enforcer who works for the international weapons manufacturing organization, Volkoff Industries. Marco features heavily in "Chuck Versus the Anniversary", first seen in Hong Kong where he is trapped on a roof by Casey and Sarah.
To escape, he uses a Handheld EMP Device built and developed by Volkoff Industries which he activated the device and took out everything for three clicks, including the building lifts, trapping Casey and Sarah as Volkoff agents were converging on their location on the rooftop. Sarah immediately knocks him unconscious and Casey and Sarah both escape by parachuting off the building. They also took the device with them and brought it to Chuck so he could flash on it.
He is next seen on board a private plane which Sarah and Casey are using, ordering the flight attendant, a fellow agent, to release sleeping gas, which promptly knocks Sarah and Casey out. When Sarah and Casey wake up he has them tied to chairs in a sub basement at the head quarters of Volkoff Industries and questions them on two CIA "master" spies, Chuck and Morgan, who are the closest two agents have ever got to Volkoff Industries. His men later have Chuck and Morgan surrounded, he gives them order to have them killed and is shocked when Chuck manages to defeat them all. As he and his men try to apprehend Chuck, Chuck and Morgan sneak another way around and rescues Sarah and Casey and began heading to the computer room where Chuck is downloading information on his mother he found was codenamed Frost. Marco locks down the building which is fully automated cold war base, sealing the team in which is thwarted when Chuck sets off Volkoff's EMP device and Team Bartowski fight their way out.
He is seen again at the end of the episode where he has has brought Mary Bartowski to him to discuss that someone from her family is looking for her. After confirming her that he hasn't told Volkoff yet, Mary attacks Marco and kills his men and stands over Marco on the ground. Marco begs her not to do it as he has a family, to which Mary responds with "So do I." and kills him immediately afterward.

Ad blocker interference detected!
Wikia is a free-to-use site that makes money from advertising. We have a modified experience for viewers using ad blockers

Wikia is not accessible if you've made further modifications. Remove the custom ad blocker rule(s) and the page will load as expected.