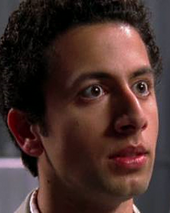 Manoosh Depak is an MIT dropout and software genius, who was contracted by the Ring to reverse engineer damaged Intersect 2.0 components from "Chuck Versus the Ring". He is portrayed by Fahim Anwar. Seen in "Chuck Versus the Nacho Sampler"
He developed them into a pair of sunglasses that could be used to "flash" agents with abilities similar to Chuck's Intersect. Chuck was ordered to make contact with Manoosh as an asset to learn more about his dealings with the Ring after a large payment was transferred to his account. After the destruction of Manoosh's prototype and ending his involvement with the Ring, Chuck "burned" his asset by delivering him to CIA protective custody. In many ways, Manoosh was similar to Chuck prior to Bryce sending him the Intersect, however he lacked Chuck's morals and was willing to do anything for money, including attempting to cheat his Ring handlers. Nonetheless, he considered Chuck a friend and felt personally betrayed by the way Chuck had used him.

Ad blocker interference detected!
Wikia is a free-to-use site that makes money from advertising. We have a modified experience for viewers using ad blockers

Wikia is not accessible if you've made further modifications. Remove the custom ad blocker rule(s) and the page will load as expected.