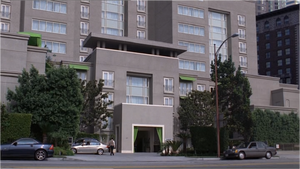 The Maison23 apartment complex is an apartment building located in downtown Los Angeles, notable for being the residence of CIA agent Sarah Walker prior to "Chuck Versus the Role Models", when she moves in with Chuck at his apartment in Echo Park.
Maison23 is, in reality, the Hotel Amarano, located at 322 North Pass Avenue in Burbank, CA.
http://www.hotelamarano.com/ "Chuck Versus the DeLorean"
Notable residents
Edit
Notable Visitors
Edit
Sarah's Apartment
Edit
Sarah's apartment features in several plot lines throughout the series, and Bryce Larkin even stays there temporarily at one point. It is also a centerpiece in several Chuck/Sarah conversations, and features heavily in "Chuck Versus the DeLorean". This is, for example, where Sarah sends her dad out for ice-cream so that General Beckman's specially sent agents fail to arrest him. It was also briefly shown in the episode "Chuck Vs Sarah", presumably in the same room as years before, where Nicholas Quinn deceives a brainwashed Sarah into working for him.
Ad blocker interference detected!
Wikia is a free-to-use site that makes money from advertising. We have a modified experience for viewers using ad blockers

Wikia is not accessible if you've made further modifications. Remove the custom ad blocker rule(s) and the page will load as expected.