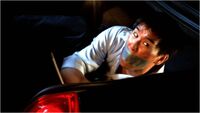 Lee Cho is a Chinese diplomat working at the Chinese consulate. He is the brother of a Chinese Intelligence agent, Mei-Ling Cho. He is kidnapped by the Chinatown Triads in Los Angeles, and is the main trigger of the events that occur in "Chuck Versus the Sizzling Shrimp". He is portrayed by Ewan Chung.
The Chinese government had categorically forbidden Mei-Ling Cho to rescue her brother, which resulted in Mei-Ling going to the United States, against orders from Chinese Intelligence, to save Lee.
Chuck later blamed himself for the kidnapping of Lee, since he had unwittingly helped the kidnapper and local Triad leader Ben Lo Pan,  a fact which led Chuck to make the rescue his first priority after being confronted by Mei-Ling.

Ad blocker interference detected!
Wikia is a free-to-use site that makes money from advertising. We have a modified experience for viewers using ad blockers

Wikia is not accessible if you've made further modifications. Remove the custom ad blocker rule(s) and the page will load as expected.