Laszlo Mahnovski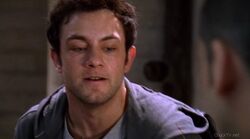 Laszlo Mahnovski is a psychotic former child prodigy who was originally contracted by the CIA to work on top secret weapons projects.
Items he claims to have designed include Chuck's modified Nerd Herder, the home theatre system at the Buy More, and Chuck's Watch. While he originally stated that he was set up by the CIA for the deaths of his handlers, it can ultimately be assumed that he is in fact their murderer.
He planned to blow up the arcade at which his main handler found him as a child, but was unsuccessful due to Chuck's vast knowledge of James Bond movies, which helped him figure out how to disarm Lazlo's bomb inside the Nerd Herd Mobile. Chuck has speculated that he was involved in the creation of the Intersect. Mahnovski is a play on the last name of actress Yvonne Strahovski, who portrays CIA agent Sarah Walker.
Seen only in: Chuck vs. the Sandworm.

Ad blocker interference detected!
Wikia is a free-to-use site that makes money from advertising. We have a modified experience for viewers using ad blockers

Wikia is not accessible if you've made further modifications. Remove the custom ad blocker rule(s) and the page will load as expected.