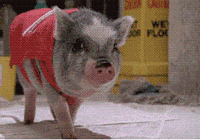 Kevin Bacon is the name of the Large Mart's porcine sales mascot.
He was kidnapped by Jeff and Lester in the Season Four episode, "Chuck Versus the Muuurder". This caused the Large Mart employees, in retaliation, to kidnap Big Mike when he dressed himself as the Buy More's mascot.
Eventually, Jeff and Lester hid the pig in the air ducts of the Buy More, and it made its way to the underground secret CIA base, Castle. The pig was eventually found in Castle, after Casey had searched in the air ducts for a murderer thinking that person would be hiding in there. After the later detonation of an explosive within Castle, Kevin Bacon was thrown from the air duct only to land in Chuck's arms. Chuck then carries the pig with him through the end of the episode and returns it to Morgan, who had been looking into returning it to the Large Mart staff. It is then assumed that Kevin Bacon had a BM in Morgan's arms.
The pig was named after the actor Kevin Bacon.
Ad blocker interference detected!
Wikia is a free-to-use site that makes money from advertising. We have a modified experience for viewers using ad blockers

Wikia is not accessible if you've made further modifications. Remove the custom ad blocker rule(s) and the page will load as expected.