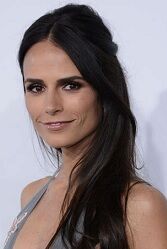 Jordana Brewster is an American actress, perhaps best known for her roles in As the World Turns, The Fast and The Furious Series, The Texas Chainsaw Massacre: The Beginning, The Faculty, D.E.B.S., Annapolis, Chuck, and most recently Fast Five in 2011. She is known to this wikia for playing Jill Roberts, Chuck's ex girlfriend.
Jordana Brewster (1980) is a direct descendant of the famous Mayflower leader William Brewster and several other notable early settlers of Plymouth Colony including several with a proven genealogy to early English royalty and the Emperor Charlemagne.
Ad blocker interference detected!
Wikia is a free-to-use site that makes money from advertising. We have a modified experience for viewers using ad blockers

Wikia is not accessible if you've made further modifications. Remove the custom ad blocker rule(s) and the page will load as expected.