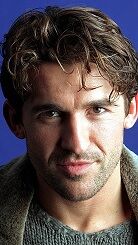 Jonathan Cake (b. 31 August 1967 in Worthing, England) is an English character actor who has worked on various TV programmes and series. His most notable roles include Oswald Mosley in Mosley, Jack Favell in Rebecca, Tyrannus in the TV epic Empire, Dr. Malcolm Bowers in the NBC series Inconceivable, and, of course, Unnamed Character One in an episode of Poirot. He also portrayed Alastair Campbell in The Government Inspector (2005).
He is best known to this wikia for portraying the British MI6 agent Cole Barker in multiple episodes of the second series.
Ad blocker interference detected!
Wikia is a free-to-use site that makes money from advertising. We have a modified experience for viewers using ad blockers

Wikia is not accessible if you've made further modifications. Remove the custom ad blocker rule(s) and the page will load as expected.