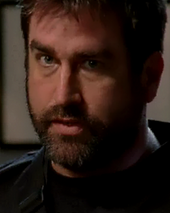 James "Jim" Rye is a CIA agent sent by General Beckman to investigate and train Chuck into using the Intersect again when it had been neutralized by Mary Bartowski with a portable device. Jim is sent after the NSA's neural scientists have found that the Intersect is not completely removed but unable to access. He is portrayed by Rob Riggle.
He is sent from Langley and began his first scare tactic when Chuck first meets him in Castle, where he has a team of agents disguised as ninjas. The tactic had worked and it managed to cause Chuck to flash and even attempt to fight them, but with no active success on that. He then trains Chuck to flash by resorting to hitting him, on the basis that Chuck may flash when in pain, but to no avail. He tests a training movement on Sarah, which she remembers all of her moves and even the names of her movements well. From this, he finds out that Chuck may be able to use the Intersect as it is still kept in his memories. He feels that Castle and Sarah are 'mollycoddling' Chuck, and that in this safe, protected environment he cannot and will not re-acquire the use of the Intersect.
He later has Beckman to guarantee him and Chuck a dangerous mission to Switzerland, to test his theory of having Chuck to flash under pure fear of death. They enter a bidding, to attempt acquiring a diamond up for bid by a Belgian man named Adelbert de Smet. They failed to buy it as Chuck was held at gunpoint by one of its buyers, Chuck and Jim later sneak into the vault where they attempt stealing the diamond which was revealed later to have intelligence on Chuck being the human Intersect.
As the two are ordered to capture the Belgian, Jim was shot and killed by the Belgian, leaving Chuck completely in harm's way. Chuck was then kidnapped, where he was being tested by Dr. Mueller and the Belgian as they attempt to retrieve the Intersect from Chuck's mind.
Appeared in: "Chuck Versus the Fear of Death"

Ad blocker interference detected!
Wikia is a free-to-use site that makes money from advertising. We have a modified experience for viewers using ad blockers

Wikia is not accessible if you've made further modifications. Remove the custom ad blocker rule(s) and the page will load as expected.