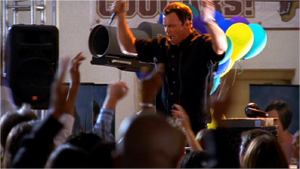 James Buchanan High is a fictitious high school located in San Diego, California, where several notable characters from the Chuck universe, particularly Sarah, graduated from. It also features prominently in the Season Two episode, "Chuck Versus the Cougars".
Notable Students
Edit
Relevance to Plot
Edit
Main Article: "Chuck Versus the Cougars"
The high school is the location of Sarah Walker's 10 year reunion, and where Mark Ratner agrees to hold a deal (monitored by Chuck, Sarah and Casey) with the Russian mob to trade US super bomber plans.
Whilst there is no such school in San Diego in real life, there is a James Buchanan High located in Mercersburg, Pennsylvania.
Given the love of comic books on the part of the creators, there may also be a Marvel Comics' Bucky Barnes reference here.
Ad blocker interference detected!
Wikia is a free-to-use site that makes money from advertising. We have a modified experience for viewers using ad blockers

Wikia is not accessible if you've made further modifications. Remove the custom ad blocker rule(s) and the page will load as expected.