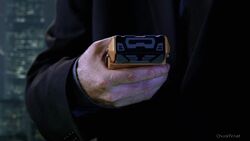 Handheld EMP Device is a device which releases an Electromagnetic pulse, a burst of electromagnetic radiation, which breaks an electrical device with in a certain range. In "Chuck Versus the Anniversary" Volkoff Industries have created a handheld EMP device which is capable of destroying any electrical device in a 3 Klick range.
Times used
Edit
Marco used a Volkoff EMP device when Casey and Sarah had him trapped on a roof top in Hong Kong. When activated the device took out everything for three Klicks, including the building lifts, trapping Casey and Sarah as Volkoff agents were converging on their location. When Sarah and Casey escaped by parachuting off the building they took the device with them.
Chuck used one of the EMP devices whilst in a Volkoff Industries building when the completely automated building had gone into lock down. The device killed every electronic device in the building, including all the lights, allowing Team Bartowski a fighting chance to escape.
In "Chuck Versus the Family Volkoff", Volkoff uses it to disable the plasma bombs planted by Vivian.
Ad blocker interference detected!
Wikia is a free-to-use site that makes money from advertising. We have a modified experience for viewers using ad blockers

Wikia is not accessible if you've made further modifications. Remove the custom ad blocker rule(s) and the page will load as expected.