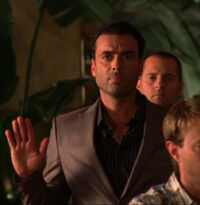 Gilles is a minor character featuring during "Chuck Versus the Anniversary", portrayed by Mario Di Donato. A known associate of The Ring, he is the focus of an undercover operation at El Bucho, where Sarah, and Casey attempt to take down supposed Ring courier Javier Cruz (who, it is later discovered, is actually an international assassin).
Ad blocker interference detected!
Wikia is a free-to-use site that makes money from advertising. We have a modified experience for viewers using ad blockers

Wikia is not accessible if you've made further modifications. Remove the custom ad blocker rule(s) and the page will load as expected.