Gertrude Verbanski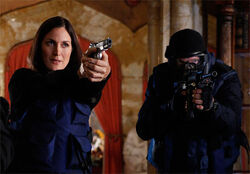 Gertrude Verbanski is the founder and CEO of Verbanski Corporation, serving as a rivalry to Chuck Bartowski's Carmichael Industries. She is portrayed by Carrie-Anne Moss of Matrix fame.
Verbanski first appeared in the Season Five episode, "Chuck vs. the Bearded Bandit".
Biography
Edit
Verbanski was once a KGB operative until its collapse in late of 1991.
Her security company Verbanski Corporation, is internationally known for being one of the best private security companies - grossing billions per year.
Verbanski has a past with John Casey, glorifying herself as one of the few to have disarmed him of his gun, which she mounts in her office. In "Chuck vs. the Bearded Bandit", Casey asks Sarah if she ever had sex with someone after they tried to kill her, strongly implying this was the past between him and Gertrude.
Verbanski and her spy firm is introduced in "Chuck Versus the Bearded Bandit", when her team abseils into a security conference to win a new government contract.
In "Chuck Versus the Frosted Tips", Casey and Gertrude end up going on a date. Throughout "Chuck Versus the HackOff", Casey and Gertrude are shown often having a tryst in a broom closet during Casey's incarceration. While Verbanski and Sarah are on a mission, Gertrude admits that she loves Casey but she's terrified it's going to turn in to something, like marriage and kids. Sarah informs her it's all about communication, but Gertrude says she's been in the spy game since she was 16. She can't imagine a life away from it. Verbanski assists Morgan in breaking Casey out of prison. Gertrude later teams up with Carmichael Industries to help Chuck as he was the constant target of rogue CIA Agent Clyde Decker.
At the end of the episode, Gertrude kills Decker with a detonated explosive, having picked his pocket for the Omen Virus - and then handing it back to Chuck. Verbanski becomes a fugitive and has to go into hiding, until it is proven by Carmichael Industries that Decker was a rogue agent blackmailed into Daniel Shaw's plans in "Chuck vs. the Santa Suit".
In "Chuck Versus the Goodbye", Casey leaves Burbank to go after Gertrude.