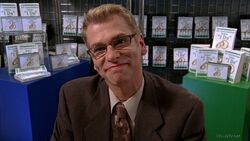 Fred Hornblower is an author in Chuck who writes a series of self help books, which aim to give helpful advice to couples who are experiencing relationship troubles.
He is seen in "Chuck Versus the Coup d'Etat", when he is attending a promotional book signing for his latest book "101 Conversations Before I Do".
In order for Chuck to solve his relationship trouble he and Sarah are experiencing, i.e the lack of communication, Chuck uses the book, asking Sarah several question that feature in it. Chuck keeps the book it self hidden from Sarah but she discovers what book he is getting the questions from when she notices a book signing at the Buy More, and begins to freak out.
Morgan seems to be quite the fan of Fred's books and is confident enough about it to recommend them to Chuck. He talks to Fred whilst he is at the Buy More book signing, asking him how to know if someone is the right person for you, during which Fred tells Morgan that his next book titled "How to Know"—a 250-page guide with exercises for a 40-step process—will cover just this topic.
He is played by Todd Sherry.

Ad blocker interference detected!
Wikia is a free-to-use site that makes money from advertising. We have a modified experience for viewers using ad blockers

Wikia is not accessible if you've made further modifications. Remove the custom ad blocker rule(s) and the page will load as expected.