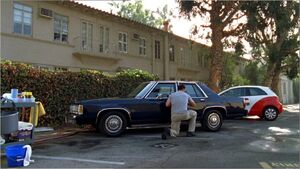 The 1985 Ford Crown Victoria is Casey's automobile of choice and features prominently in both Season One and Season Two.
The Crown Victoria is first seen during "Chuck Versus the Crown Vic", where Casey is seen cleaning it around the back of his apartment by Chuck. It features a 4.6L V8 engine and Hydro-glide transmission. Casey has made numerous modifications, including a "Prisoner Containment Area" and a state of the art GPS tracking system in the license plate.
In the Season Two episode "Chuck Versus the First Date", Casey drives his Crown Victoria through the wall of a Chinese restaurant to rescue Sarah and Chuck, who are being captured by Mr. Colt.
In the Season Three finale; Chuck vs The Subway/Chuck vs The Ring: Part 2; it is revealed that the Crown Vic has a missile launcher in the front bumper; which Morgan & Awesome accidentally fire while trying to figure out a plan to free Chuck, Sarah, and Casey; who have been captured by The Ring.
Casey's Crown Victoria is replaced multiple times during Seasons One, Two and Three, most notably after it is blown up by a guided missile during .
Casey notes that due to his various modifications, he could locate his Crown Victoria anywhere in the world in less than a minute"Chuck Versus the Crown Vic".
According to Casey, he could buy "10 more just like her" with the $100,000 Chuck loses at Roulette during "Chuck Versus the Crown Vic", but in reality, many more could be purchased, with prices of Crown Victorias of this era much lower than $10,000. It should be noted however that this could be in reference to all of the after market features he's added and not simply an oversight 
Though in the episode "Chuck Versus the Crown Vic" Casey refers to the car as a "1985 Crown Victoria" the car's body styling actually resembles 1988-1990 model LTD Crown Victoria. Later in the episode "Chuck Versus the Ring: Part II" the car resembles a 1991 LTD Crown Victoria. 
Throughout television shows, the Crown Vic is frequently cited as the vehicle of choice for law enforcement and "G-Man" types.
Ad blocker interference detected!
Wikia is a free-to-use site that makes money from advertising. We have a modified experience for viewers using ad blockers

Wikia is not accessible if you've made further modifications. Remove the custom ad blocker rule(s) and the page will load as expected.