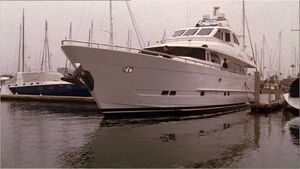 The Floating Hope is a large yacht which marks a key plot location during "Chuck Versus the Crown Vic". It was owned and operated by criminal Lon Kirk.
Relevance to Plot
Edit
The Hope is first encountered during a Nerd Herd install by Chuck, Lester and Jeff. The team have to set up a control which handles all on board functions, and this is successfully completed; however Jeff wanders below deck, where they discover counterfeit money being counted and stacked. One of Lon Kirk's men then tells them that this is in fact money raised by Lon Kirk's charity operations, however Chuck's flash confirms the notes as fakes. Later, Sarah is ordered to get close to Lon Kirk by any means possible, and so visits the Hope, where she attempts to find out more information. Unfortunately, Morgan spots Sarah and Lon Kirk together on the Hope whilst having dinner with Anna's parents, and phones Chuck; which brings him down to the Marina Del Rey. Chuck and Casey believe there to be counterfeit plates on board, and storm the boat, only to find medical supplies in the crates. Against orders, Sarah and Chuck then revisit the Hope in an attempt to convince Lon Kirk they aren't a threat, but this turns sour and Chuck has to prevent Lon Kirk from blowing up a Taiwanese yacht, by redirecting the RPG missile to Casey's Crown Victoria, which is then destroyed.
Lester states on the ship that it reminds him of the "Pacific Princess". This is a reference to the "Love Boat".
Ad blocker interference detected!
Wikia is a free-to-use site that makes money from advertising. We have a modified experience for viewers using ad blockers

Wikia is not accessible if you've made further modifications. Remove the custom ad blocker rule(s) and the page will load as expected.