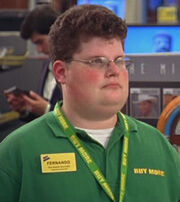 Fernando (Jesse Heiman) is a Green Shirt at Buy More. He is often seen along side Skip. Fernando has only one speaking line, which is during the series finale Chuck Versus the Goodbye.
On the Jeffster Facebook page, he is credited with producing the band's shirts in his mom's living room.
External Links
Edit
Ad blocker interference detected!
Wikia is a free-to-use site that makes money from advertising. We have a modified experience for viewers using ad blockers

Wikia is not accessible if you've made further modifications. Remove the custom ad blocker rule(s) and the page will load as expected.