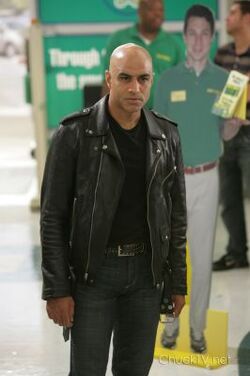 Farrokh Bulsara, from Asir Province, Saudi Arabia, is an Arab terrorist who spent his formative years building terrorist training camps from Syria to Somalia. He is attempting to gain control of missiles currently attached to a decommissioned Japanese military satellite and is aware that the launch codes for these missiles is hidden within the video game Missile Command.
To this end, he first attempts to enlist the help of Jeff Barnes, the one-time World Champion of this game, before forcing Morimoto, the creator of the game, to procure the launch codes instead. After detonating a bomb in Morimoto's office, killing the Japanese game designer, he uses the satellite capabilities of a LA television station to command the missiles aboard the satellite to launch, thereby starting World War III. After Chuck beats the video game and obtains the launch codes, he informs Sarah, who uses the codes to stop the missiles after subduing Bulsara.

Interestingly, Farrokh Bulsara was the birth name of deceased Queen frontman, Freddie Mercury.

Ad blocker interference detected!
Wikia is a free-to-use site that makes money from advertising. We have a modified experience for viewers using ad blockers

Wikia is not accessible if you've made further modifications. Remove the custom ad blocker rule(s) and the page will load as expected.