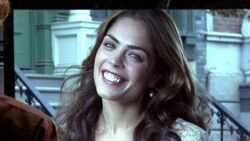 Evelyn "Eve" Shaw (Kelly Thiebaud) was the wife of Daniel Shaw, who Sarah Walker was ordered (without identification) to kill as the conclusion of her red test.
Eve was assigned to be a double agent inside the Ring. She placed most of her findings in a CIA lockbox, which wouldn't be opened until 2010. However, the CIA uncovered evidence that she had been turned by the Ring. Therefore, CIA Director Langston Graham gave the red test order for Sarah Walker to eliminate her. Walker achieved this in Paris by quickly shooting Eve before she could presumably pull a gun out of her purse. Sarah didn't have time to ID her target, as she wasn't given any information, and had to flee before the police could arrive. Daniel, who presumed that Ring killed her, dedicated five years of his life to taking down the Ring. He eventually learned from the Ring Director about the true circumstances of Eve's death and turned rogue, focusing his anger on Sarah and later Chuck as well.
Related Articles
Edit
Ad blocker interference detected!
Wikia is a free-to-use site that makes money from advertising. We have a modified experience for viewers using ad blockers

Wikia is not accessible if you've made further modifications. Remove the custom ad blocker rule(s) and the page will load as expected.