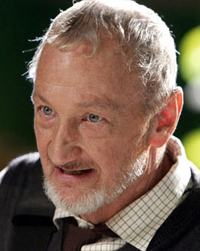 Dr. Stanley Wheelwright is a weapons designer for Volkoff Industries, with experience as a professor of endocrinology, biochemistry, psychology, as a senior lab advisor, and as a manager of resources. Wheelwright developed a nerve gas called Atroxium that can send people into permanent nightmares. He is portrayed by Robert Englund.
After Wheelwright demonstrates Atroxium on a Volkoff Industries security guard, Mary Bartowski risks breaking her cover and arranges for him to sell it to Volkoff's most trusted buyer, "Charles Carmichael" (cover for Mary's son; Chuck). Chuck later locks Wheelwright and himself in Castle as well as the Buy More after being exposed to the drug. He tries to terrorize Chuck into opening the doors to the store by putting him in the "Aisle of Terror" (a Halloween attraction made by Jeff and Lester based on experiments by a UCLA colleague, Professor Schofield, whom Wheelwright resents). The plan backfires when he is driven mad by the imagery. Wheelwright hands over the antitoxin and is taken into custody.
First seen in: "Chuck Versus the Aisle of Terror".
He makes reference in dialogue and action to the character Freddy Krueger in the Nightmare on Elm Street series—a role previously made famous by Englund—and Scarecrow from the Batman series.

Ad blocker interference detected!
Wikia is a free-to-use site that makes money from advertising. We have a modified experience for viewers using ad blockers

Wikia is not accessible if you've made further modifications. Remove the custom ad blocker rule(s) and the page will load as expected.