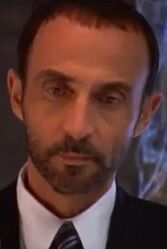 Dr. Mohammed Zamir (Shaun Toub) was the personal physician and friend of the terrorist known as Rashad Ahmad, who was visiting the hospital where Ellie and Devon work to have a pacemaker implanted.
The team used Devon's credentials to plant a tracking bug on the pacemaker. Zamir discovered the bug and attempted to force Devon to remove it. Chuck secretly took Devon's place and was kidnapped instead. He was captured when Chuck got him (as well as himself) high on nitrous oxide while trapped in a bank vault.
First seen in: "Chuck Versus the Broken Heart"

Ad blocker interference detected!
Wikia is a free-to-use site that makes money from advertising. We have a modified experience for viewers using ad blockers

Wikia is not accessible if you've made further modifications. Remove the custom ad blocker rule(s) and the page will load as expected.