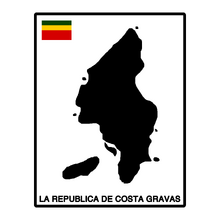 Costa Gravas was formerly a Latin American communist country, ruled by Premier Alejandro Goya, who governed the nation since a coup in the 1970s. Goya put his country up for democratic elections. As of Season 4, it has become a democratic country, as seen in the episode; "Chuck Versus the Coup D'Etat".
The country made its first appearance on the Season Three episode; "Chuck Versus the Angel of Death", back when Goya was still opening the country up for democracy.
The Premier had put his country up for democratic elections, where his wife, Hortencia Goya had started a coup d'etat against Goya. They attempted to capture Team Bartowski, but they managed to escape with Goya onto his private jet, where they lead him out of the country as it was no longer safe for him. He suggests that he should be staying with Casey as he is at the time the only man he could trust, after Casey's blood was given to him back in "Chuck Versus the Angel of Death".
John Casey had made three unsuccessful attempts on assassinating the Premier despite living within his walls for weeks. During these attempts, he spilled a lot of blood, earning the nickname, "Ángel de la Muerte" or "The Angel of Death", among the Costa Gravans. In 2009, Goya planned on opening his country to democratic elections.
However, the Ring desired to maintain the status quo in Costa Gravas and dispatched an assassin to poison Goya. However, he was saved twice by Dr. Devon Woodcomb. On the second time, Devon used Casey's blood to save Goya's, and so Casey is then re-nicknamed by Goya as "The Angel of Life".
Geography
Edit
Costa Gravas consists of one big primary island, one medium sized island to the south west, and six other smaller islands surrounding the main island.
Costa Gravas and its leader bear a not accidental resemblance to Cuba and Fidel Castro respectively.
Ad blocker interference detected!
Wikia is a free-to-use site that makes money from advertising. We have a modified experience for viewers using ad blockers

Wikia is not accessible if you've made further modifications. Remove the custom ad blocker rule(s) and the page will load as expected.