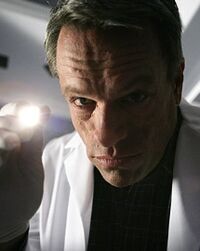 Cliff Arculin, real name Cliff Siljak, was born on April 16, 1958 in Los Angeles, CA. Cliff was formerly a top CIA neural scientist but was shunned by the wider CIA community due to rumors that his experiments fell closer to torture than actual science, an isolation which led to him joining Fulcrum.
He was one of the undercover Fulcrum agents based at Meadow Branch who were working on building the Fulcrum Intersect, after Fulcrum's plan to steal the government's First Intersect was foiled by Bryce Larkin. Cliff posed as a husband to fellow Fulcrum scientist Sylvia Arculin during their time in at Meadow Branch.
Cliff apparently survived the activation of the Fulcrum Intersect by Casey and is now incarcerated by the CIA.

Ad blocker interference detected!
Wikia is a free-to-use site that makes money from advertising. We have a modified experience for viewers using ad blockers

Wikia is not accessible if you've made further modifications. Remove the custom ad blocker rule(s) and the page will load as expected.