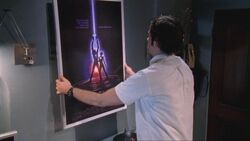 Chuck's Tron Poster refers to the film poster of Tron that Chuck had ever since he was 12, which hangs in his bedroom at his Echo Park apartment.
Chuck has maybe had the poster for such a long time because Tron was a film that he and his father both loved. Their shared love for Tron was used as signal for Chuck when Stephen was kidnapped by Fulcrum, to force him to build a new Intersect. Stephen managed to hack into a Movie advert sign near Black Rock, where he was being held, and changed the text to read "Tron 12PM" as a sign to Chuck that he was there.
In
Chuck vs. the Lethal Weapon
is revealed that Chuck used the back of the poster to map out connections of the
NSA
,
CIA
and
Fulcrum
with the Intersect project.
Ad blocker interference detected!
Wikia is a free-to-use site that makes money from advertising. We have a modified experience for viewers using ad blockers

Wikia is not accessible if you've made further modifications. Remove the custom ad blocker rule(s) and the page will load as expected.