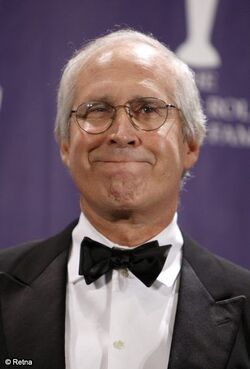 Chevy Chase (born October 8, 1943) is an American Emmy Award-winning comedian, writer, and television and film actor. Born into a prominent family, Chase worked as a professional musician as well as other jobs before moving towards comedy and becoming a key part of National Lampoon.
He also starred as Emmett Fitz-Hume in 1985's "Spies Like Us", a classic 80s spy comedy to which the show makes numerous references.
Within the Chuck universe he plays villainous software magnate Ted Roark, owner of the company Roark Instruments, and is the Season two baddie who wants to use the Intersect, built by the captured Stephen Bartowski, to mass input the information into Fulcrum agents.
Ad blocker interference detected!
Wikia is a free-to-use site that makes money from advertising. We have a modified experience for viewers using ad blockers

Wikia is not accessible if you've made further modifications. Remove the custom ad blocker rule(s) and the page will load as expected.